Instead of Warmblood Stallions of North America's Foundation Friday, today we recommend a special tribute to one of the most significant foundation sires of our time. Every other Friday we normally feature a foundation sire - one who has been influential in the development of warmblood breeds. We pull from the incredible archive of The Horse Magazine, published by Chris Hector of Australia. Thank you, Chris, for permission to draw on your expertise! Today's post is about Chris's recent tribute to Donnerhall.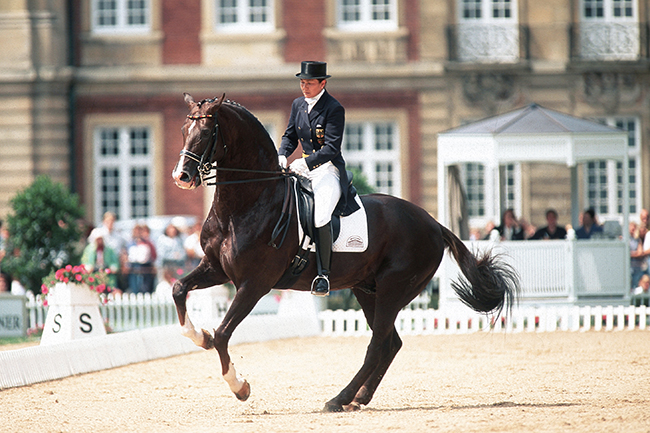 This photo, from the HorseMagazine archives, was taken by the late Werner Ernst.

The great stallion was born in 1981 and died in 2006, but not before he established a dynasty that continues to dominate international dressage. Donnerhall was the founding stallion at one of the first truly glamorous private studs – Grönwohldhof.
The article is a real tribute, and includes interviews (past and present) with those who knew the stallion best. It starts with the statement, "It must be admitted that Donnerhall hardly comes from a 'good family.'" and, in support of this, comments that his sire, Donnerwetter, "disappeared into the wilds of the United States in the 1970s." It is certainly true that the horses sold to us by Europeans were almost never their best horses, even when they claimed they were.
The article quotes Karin Rehbein, his famous rider, from an interview from 2000, six years before Donnerhall died. "He is still fantastic; he could still go out and win right now."
"Donnerhall's talent was apparent right from the start, and he scored 131.92 to be second in his performance test at Adelheidsdorf in 1984. Donnerhall's competition career is the stuff of legend. He won many Grand Prix, Grand Prix Specials and Freestyles for Mrs Rehbein."
The big tribute is to Donnerhall as a sire. "What Donnerhall seems to give to his offspring is a trainability and a strength to handle the more collected work, even if their natural paces are not so spectacular. It would seem that the mix of Donnerhall and a large drop of 'blood' (Thoroughbred that is) in the dam is more likely to produce competition horses."
He takes a look at the sheer number of Donnerhall horses represented at the Olympics and other significant events. At the 2014 WEG, for example, there were 13 D-line horses were in the field of 103, and nearly half of the horses in the Freestyle were descendants of Donnerhall.
---
To read the full salute to Donnerhall on the Horse Magazine website, click here. The Horse Magazine also has a "Foundation Sires" article about Donnerhall here.
There are quite a few stallion descendants of Donnerhall in North America. Click on the following links to read about each of the ones on WarmbloodStallionsNA.com: