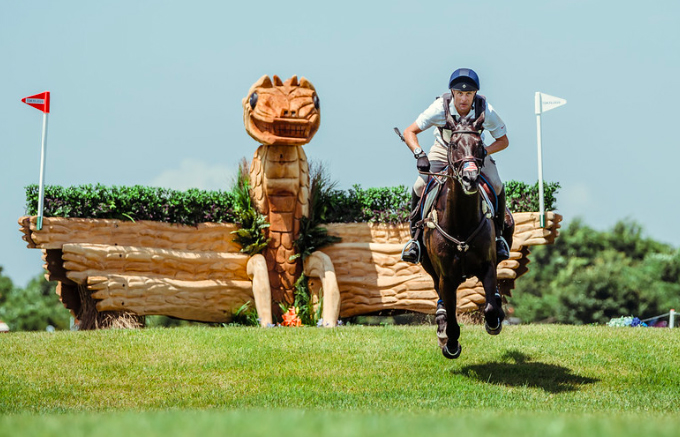 Tsetserleg TSF, by Windfall II, bred by Timothy Holekamp, USA
The Horse Magazine photo
Christopher Hector has just posted a new article about the bloodlines of the eventing horses at the Tokyo Olympics. As always, an interesting article. He points out that 8 of the 25 horses that got through to the Individual final were French-bred. He concludes that "for eventing you should look to Selle Français, Anglo-Arab, Trakehner, and blood, blood, blood." And the French specialize in three of the four. He goes into detail about the French horses' bloodlines, especially the Selle Français, but also the Anglo-Arab, and the French Thoroughbred lines.
The main Trakehners mentioned are the US-bred sons of Windfall. He says,
"It would also be remiss not to salute the Trakehner stallion, Windfall II, himself an Olympic eventer (12th at Athens, team bronze) and the sire of two of the eventers in the American Tokyo eventing team, Doug Payne's Vandiver (Mystic Replica xx) and Boyd Martin's Tsetserleg TSF (Buddenbrock). I cannot think of another stallion of any breed that has competed in the eventing at a Games and then gone on to sire Olympians."
Chris Hector details Windfall's beginnings, bred in Germany and competed by Ingrid Klimke, and goes into detail about his dam, Wundermaedel xx. He mentions that he was sold to the United States and competed successfully by Darren Chiacchia, including at the 2004 Olympics, and retired after 12 seasons.
He doesn't mention that he is owned by Timothy Holekamp, of New Spring Farm, who is a powerhouse supporter of eventing in the US, and a long-time Trakehner supporter and breeder. He is a founder of the Young Event Horse program, and co-chairs the YEH committee. He has been responsible for improving American eventing, and American competitiveness on the international stage, in many ways.
Tim Holekamp is himself the breeder of Tsetserleg TSF. Based on Tim's WBFSH research, Tsetserleg is "the only Olympic eventing horse in history to be son, grandson, and great grandson of national team-member international event horses."
Windfall is still both sound and fertile at 29 years old. According to Tim, "Windfall is the only horse in the history of our sport to win a CCI**** (old speak [now 5*]) and then go on to become a proven Grand Prix dressage horse (trained by Cheryl Holekamp, who intends to go for the USDF Century Cup award next summer on still-sound Windfall, who will then be 30 years old)."
Windfall certainly did brilliantly in Germany as a young horse, but his status as an Olympian and the sire of Olympians is due to Tim Holekamp, USA.
Read the full article here: https://www.horsemagazine.com/thm/2021/08/eventing-at-tokyo-a-triumph-for-french-breeding/
Tetona, by Windfall II, full sister to Tsetserleg. "Despite being retired from breeding for over a decade, Windfall is the sire (and eleven-years-infertile Thabana *M* is the dam) of the 2021 black filly Tetona, conceived by ICSI."


Tim Holekamp photo