Here is one of Warmblood Stallions of North America's more popular Foundation Friday posts. Every other Friday we will be featuring a foundation sire - one who has been influential in the development of warmblood breeds. We pull from the incredible archive of The Horse Magazine, published by Chris Hector of Australia. Thank you, Chris, for permission to draw on your expertise!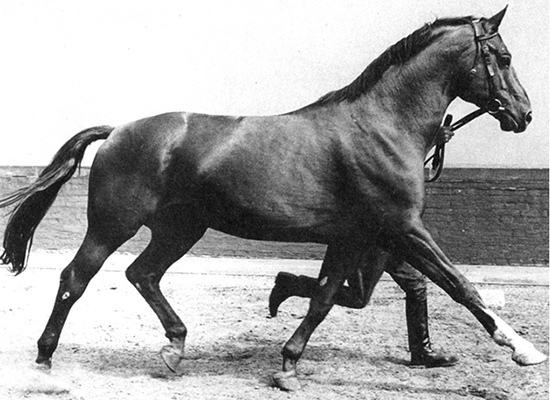 Absatz
1960
166cm
Breeder: Wilhelm Brunkhorst
Abglanz's influence in Hanover was most felt through his son Absatz, who was out of the Hanoverian mare Landmoor, who on her sire's side traces to the famous English Thoroughbred, Perfectionist xx…
Thanks to the magic of frozen semen, he continued to sire foals long after his death, and it is rumored that a vintage cache of Absatz semen is still "cellared" at Celle…
When asked in an interview in 2000 about the most influential stallions in his time at Celle - which stretches from 1973 to 1979 as assistant to Dr. von Stenglin, and from 1979 to 2007 as the director of the stud - Dr Burchard Bade paid tribute to the refugees from the East:
"The Trakehner stallion Abglanz and his son, Absatz, and the grandsons, and great-grandsons... had a very big influence on the 'type' of the Hanoverian horse, and in riding quality as well."
---
To read the full article as it was published on The Horse Magazine website - along with full pedigree of
Absatz, click here. The publisher and creator of this incredible resource, Christopher Hector, is the
author of The Making of the Warmblood Horse.
Looking for classic Absatz bloodlines? There are several stallion descendants of Absatz in North America. Click on the following links to read about each of the ones on WarmbloodStallionsNA.com: