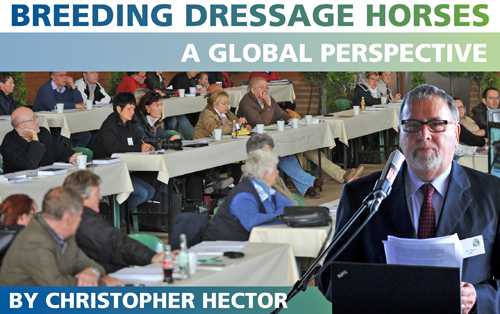 Chris Hector, author of the impressive reference book The Making of the Modern Warmblood, has shared a talk he gave in 2010 in Warendorf, Germany. The title is "Breeding Dressage Horses: A Global Perspective," and it's really a history of dressage breeding - and a wonderful read. One of the comments was, "One of the great equestrian journalists writing on his passion," and that sums it up.
The dressage influencers are covered, both equine and human, and specific breeds like the Thoroughbred and Trakehner; as well as the role of the early auctions and the rise of specialist dressage training barns. Here is a list of the sub-heads:
Location, Location, Location [local breeding stations]
The Emergence of the Dressage Stallion
The Trakehner Influence
The Role of the Thoroughbred
The Dressage Specialist Trainer
Nature or Nuture?
The Stallion from Somewhere Else
Jumping Blood - a Plus or Minus for the Dressage Horse?
Scandanavia - the Emerging Dressage Power-House?
Local Goes Global [Paul Schockemöhle]
What Does It Mean for the Consumer?
Here are a few excerpts:
"What follows is the text, slightly updated, of my address to the Dressage Horse seminar at Warendorf in 2010. While the invitation was a great honour, it was also very intimidating to be asked to address such a distinguished gathering, especially on a topic that so many people present knew so much about. What I tried to offer was a slightly different perspective, the view from outside. ... the flow of ideas and horses throughout all the major European breeding areas."
"In the early days, 'The breeding station was also a focus of social life, a place for parties and celebrations, for old friends to meet for a quiet schnapps while their mares were served by one of 'their' stallions. ... mares still often arrived at the show in a crate towed by a tractor, and yes, sometimes the feet pushing the accelerator were encased in clogs. It turned the districts into a unique laboratory for stallion evaluation." Also covered is the rise of the young horse classes and their importance in breeding, which have "produced a fast-track to dressage success. Instead of having to train a horse for five or six years, all we need are a few months under saddle and we have the instant stars of the young horse classes. It is great for an expanding 'dressage industry'; whether it is so great for the young horses is open to debate."
Click here to read the full article, well worth it.