Here is the next installment of Warmblood Stallions of North America's Foundation Friday. Every other Friday we will be featuring a foundation sire - one who has been influential in the development of warmblood breeds. We pull from the incredible archive of The Horse Magazine, published by Chris Hector of Australia. Thank you, Chris, for permission to draw on your expertise!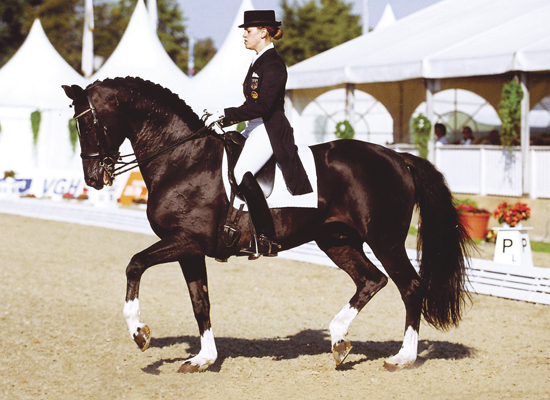 1993–2017
170 cm
Black (Liver Chestnut)
Breeder: Brigitte Pahl
Licensed for Hanover, Oldenburg, Westphalia, Rhineland, Saxony-Anhalt, Mecklenburg-Vorpommern, Sweden, Denmark, and France

Donnerhall was the first of the great competition dressage stallions… – a fashion carried on by his son, De Niro. De Niro comes from the Akzent II mare Alicante, who was herself a successful dressage competitor…. At the stallion licensing in 1995, De Niro demonstrated his jumping ability; … overall De Niro finished 2nd with a score of 141.93. By the year 2000, and at the age of only seven, he was already competing in Grand Prix dressage with Dolf-Dietram Keller – and the following year carried Mr Keller to the title German Professional Champion. In 2002, De Niro won international Grand Prix and Grand Prix Special tests at Saumur and Berlin, and in 2003, he was the winner of the German Dressage Derby at Hamburg. Dolf-Dietram Keller has a special relationship with De Niro. "He was the horse that I rode the longest." He told Britta Züngel for her story in The Hanoverian ((8/2014) "De Niro was very trainable. He learned the one-tempi changes in only two days as a six-year old. He did them every day from then on. We tried Piaffe and Passage very early at home. …." … As a sire, De Niro has been a huge success. … By the time the 2018 Hanoverian Stallion Book is published, he has 1195 competitors with winnings of €2,967,598 – with 220 S level dressage competitors. Thirty four of his progeny have won more than €10,000, with Desperados FRH still the leader but now with €528,505. His Hanoverian breeding value for dressage is 113, for jumping, 74, and for type, 108. On the 2018 German FN breeding values, he is credited with 128 as a sire of young horse competitors and 137 for open competitors. In 2019, two years after his death, De Niro's stats continue to swell. … When I interviewed his owner, Burkhard Wahler in 2007, he was rightly proud of his horse: "Some people might disagree, but in my opinion, there is no son of Donnerhall as successful as De Niro. …." … The story of how Burkhardt Wahler acquired De Niro is entertaining, and bears out Burkhardt's maxim that with every stallion comes a story... … According to Mr Wahler, De Niro crosses over a wide variety of mare lines: … … On the 2016 WBFSH standings he is once again in first place. I asked Hanoverian breeding expert Ludwig Christmann what made De Niro such an exceptional sire: "I think you should probably talk to the riders and trainers, I think it is the minds that they like. When I talk to Mr Sprehe about Desperados and he says the horse is always fit, even if it is 35 degrees like in Rio, he always does his job. They have the talent for collection and the higher movements, but it is the mind that makes them so special." … De Niro is once again in first place on the 2018 WBFSH dressage stallion rankings.
---
Meet the stallion descendants of De Niro on WarmbloodStallionsNA.com. Click here:
The HorseMagazine also has a tribute to De Niro when he died in 2017, with interviews, photos, and a celebration of his offspring. Click here.