Here is the next installment of Warmblood Stallions of North America's Foundation Friday. Every other Friday we will be featuring a foundation sire - one who has been influential in the development of warmblood breeds. W
e pull from the incredible archive of
The Horse Magazine
, published by Chris Hector of Australia. Thank you, Chris, for permission to draw on your expertise!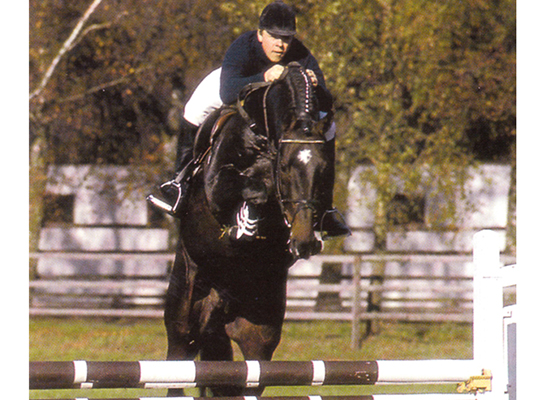 1985–2011
170 cm
Dark Bay
Breeder: Erhard Krampitz
The career of this stallion is truly one of the signs of the times. Born and raised in Holstein, Germany, he finished his stud career in France – previously the most chauvinistic of countries when it came to horse breeding. Lord Calando's sire needs little introduction – but his dam is something rather special: Perra is also the dam of Carthago, another of the great jumping competitors and sires. Her sire, Calando, was himself an international showjumper, …; he was also a good sire of jumpers with progeny with earnings of DM500,000 by 1994, and 180 state premium mares. After standing at the famous private stud farm of Maas J. Hell, Lord Calando made his move to France, to the French National Stud. In 2006, he was 47th on the list of the top 100 French stallions with 73 mares. … Lord Calando is described on the Stud website as: "a handsome and athletic horse, with very good shoulders and haunches." … Indeed Lord Calando is rich in Thoroughbred blood. Aside from his paternal grand-sire, Ladykiller, there are three crosses of Cottage Son, one of Rantzau, one of Furioso and one of Marlon. Lord Calando hit the jackpot when he was "trial" bred while awaiting his performance test, and produced his most famous son, Lux Z. He is also the sire of Fabienne, … Locando, … Goldkueste, … and also sired Joplanda, the dam of Numero Uno.
---
Meet some of the stallion descendants of Lord Calando on WarmbloodStallionsNA.com. Click here:
La Marque