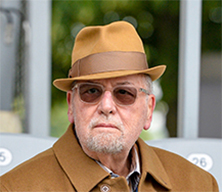 Christopher Hector, editor and writer for The Horse Magazine
The new German breeding values were published this spring, and at the end of April Chris Hector published an article on
The Horse Magazine
about them. The article is by Dr. Ludwig Christmann, with an introduction by Chris Hector. The article by Dr. Christmann first appeared in German in
Der Hannoveraner
in January, 2020.
As usual, the article is more than just a report on the results. Chris Hector has long been critical of the breeding value calculations, and has, in his words, "written a series of articles over the years, pointing out anomalies in the 'numbers,' ..." In the intro, he provides a summary of the history of these evaluations, including the BLUP and how it was used, and a solid critique of the BLUP, with input from Bernard le Courtois of France.
This year there were again changes to how the stallions are evaluated. Dr. Christmann explains this year's results, with deep looks into bloodlines, and the three different tables of values used this year.
Chris Hector weighs in again with his opinions, and examples, at the end.
It's always interesting to hear the opinions and explanations of experts, perhaps especially when they disagree!
Read the article here
.