Here is the next installment of Warmblood Stallions of North America's Foundation Friday. Every other Friday we will be featuring a foundation sire - one who has been influential in the development of warmblood breeds. W
e pull from the incredible archive of
The Horse Magazine
, published by Chris Hector of Australia. Thank you, Chris, for permission to draw on your expertise!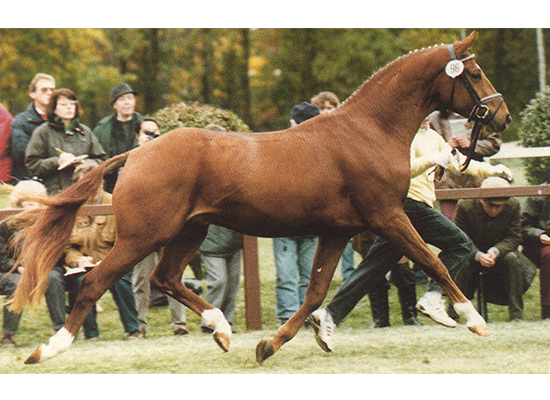 1991–2014
164 cm
Chestnut
Breeder: Gerd Luhr
Wolkentanz is very much a product of the family Lühr who live in Borgholzhausen in Westphalia. Gerd Lühr and his wife, Ursula are devoted to their Hanoverian breeding program.
Wolkentanz I, born 1991, is a "Sunday child." He was a correct foal with good basic gaits but was a bit too small. State stud manager Dr. Burchard Bade evaluated him at the inspection: "That is the way how a horse should move."
Wolkentanz I remained on the farm because of his size until Heinrich Lampe ... bought the small chestnut for his daughter Stefanie. The buyers and the breeders believed in the powerfully moving and impressive youngster. Martin Berkenbusch raised him. He was accepted for the stallion inspection in Verden. Before Stefanie Lampe was able to decide whether or not she wanted to sell him state stud manager Dr. Bade had already secured the young stallion for the state stud.
Wolkentanz won the Three Year Old Stallion class at the Bundeschampionate in 1994, and stood at Celle until 2014.
In the 2017 Hanoverian Stallion book, Wolkentanz I has a dressage score of 132 with a jumping value of 83. He has an FN dressage value of 141 on the young horse breeding values, and a value of 134 for the "big sport."
---
Meet some of the stallion descendants of Wolkentanz I on WarmbloodStallionsNA.com. Click here: