Here is the next installment of Warmblood Stallions of North America's Foundation Friday. Every other Friday we will be featuring a foundation sire - one who has been influential in the development of warmblood breeds. W
e pull from the incredible archive of
The Horse Magazine
, published by Chris Hector of Australia. Thank you, Chris, for permission to draw on your expertise!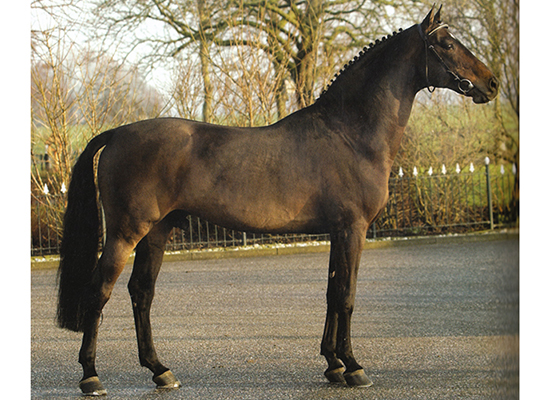 1990
169 cm
Dark Brown
Breeder: Gerd Hansen
In Holland he is known as VDL Indoctro, while in Germany, following the Holstein naming custom, he is C-Indoctro. By any name he is one of the world's most successful jumping sires. Indoctro is another of those hugely successful Capitol/Caletto II crosses. … Indoctro has been such a success as a sire for the KWPN studbook, that at the age of 16 he received the title: "Preferent." He is the sire of more than ten licensed sons …. All over the world Indoctro has produced winners at Grand Prix and World Cup level. … In the USA, Indoctro was named the USEF jumping sire of the year. He ranks in 10th place on Bernard le Courtois list of the top 75 stallions of 2006. … On the 2013 WBFSH standings, Indoctro ranks 13th, with 59(!) representatives… The 2016/17 KWPN rankings has him in 31st spot with a jumping value of 129 (conformation – 104, free movement – 100, freejumping – 107. He produced 4102 progeny over the age of 4 (the Dutch mare owners have happily flocked to Indoctro year after year, even though his breeding value is not in the top group) with 1556 competitors (37.93%).
---