Christopher Hector has posted a new set of articles on his website,
The Horse Magazine
, that will interest breeders. It starts with "WBFSH Jumping Sires 2019," an analysis of the bloodlines represented in the newest Sire Rankings for jumpers. Gemma Alexander co-authors, and provides some statistical analysis.
"Strike rate" is one of the analyses discussed in each of these articles. The WBFSH has its own formula for ranking stallions by their offspring's success, but its focus is on how successful the offspring are. So one spectacularly successful offspring can move a stallion dramatically upwards in the rankings - even if the rest of the stallion's offspring don't do much. Strike rate tells you what percentage of offspring hit a certain mark. This could be a more useful tool for breeders, telling you how often the stallion has passed on the talents you are breeding for.
This way of analyzing success shakes things up a bit. This is especially well-illustrated by the
evening sires
, where the stallion Limmerick has had 5 offspring competing at the 5* level, out of only 67 total offspring. This gives him a very high strike rate of 7.5% for producing 5* eventers. The top eventing sire is Contendro, who has 2038 competing offspring, but "his success rides largely on German eventing ace ... fischerChipmunk FRH...." The percentage of his offspring who get to high levels is quite a bit lower than many of the stallions ranked below him by the WBFSH.
Showjumping Sires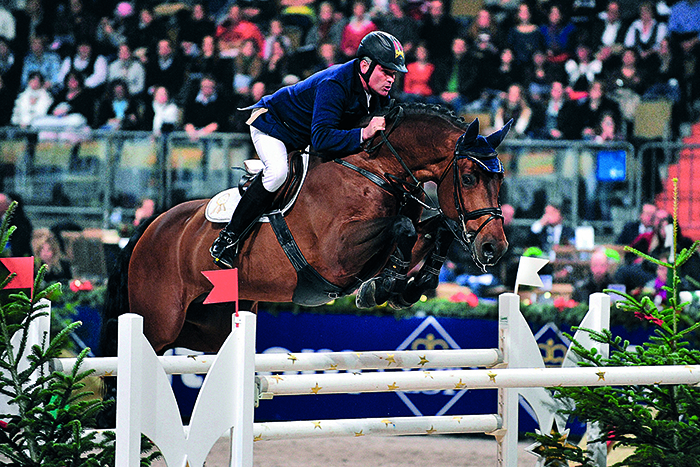 Chacco-Blue - number 1 again!
"You don't go to the Jumping Sires Rankings in search of new faces. Unlike the dressage breeders, the showjumping breeders tend to use stallions that have thoroughly proven themselves in the sport, which doesn't make for a lot of movement on the standings. ..."
Click here to read more.
The article includes an analysis of Thoroughbred blood present, and - scroll down - a look at some of the top broodmares, and also a chart of the stallions' "strike rate" of producing 1m60 and 1m40 competitors.
Dressage Sires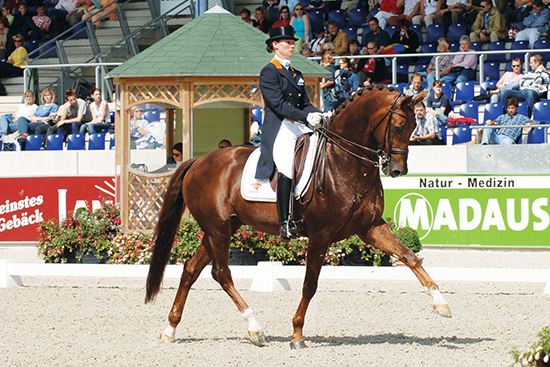 Jazz - back at number 1
The second article tackles the analysis of dressage stallions.
"There is a comforting 'old pals' feel to this year's WBFSH dressage sires rankings. The incomparable Jazz last headed the sires' standings in 2011, now he's back at number one, thanks to a veteran and a newcomer. The veteran is Judy Reynolds' wonderful Vancouver K (Ferro) while the new face is Jazz's highest points earner this year, and number 11 in the world, Blue Hors Don Olymbrio, also out of a mare by Ferro. ..."
Click here to read more.
Besides looking at the stallions' bloodlines and the offspring that put them in the rankings, Chris and Gemma look at strike rate for total number of offspring, and also percentage of "blood."
Eventing Sires
fischerChipmunk FRH, son of #1 eventing sire
Contendro
.
(photo: Libby Law)
Eventing sires are also analyzed.
"The top ten list of eventing sires is no longer the almost random motley collection it once was. More and more breeders are looking to the eventing market and in the process finding sires likely to succeed, although as we will see, success as an eventing sire... "
Click here to read more
.
This article follows the format of the others, with bloodline analysis, then statistical, with strike rate and thoroughbred percentage. And you can't miss the adorable photo of Ramzes, with his breeder, Baron von Nagel, at the top of the page. #1 eventing sire Contendro, sire of fischerChipmunk FRH, is "strongly inbred to the Anglo-Arab foundation sire Ramzes
through Ramiro with two crosses on his dam line, and then Ramiro again as Contender's dam sire."
One of the things Christopher Hector is good at is looking at a question from a different point of view. In these articles he does just that - giving breeders more tools to make better decisions
.