Here is the next installment of Warmblood Stallions of North America's Foundation Friday. Every other Friday we will be featuring a foundation sire - one who has been influential in the development of warmblood breeds. W
e pull from the incredible archive of
The Horse Magazine
, published by Chris Hector of Australia. Thank you, Chris, for permission to draw on your expertise!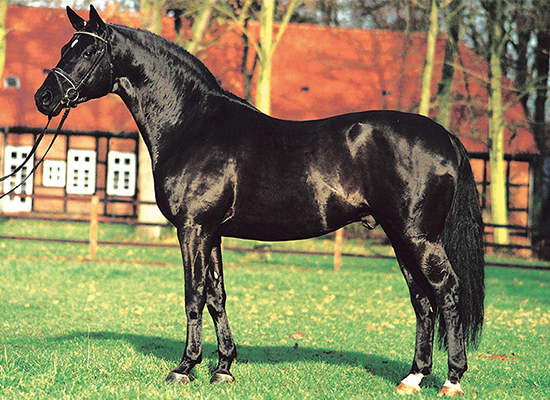 1991–2013
167 cm
Black
Breeder: Harry Bartsch
Let Burkhard Wahler tell the tale: "So we raised him until he was two and then I could see, oh cripes, it's a fantastic stallion, I would like to buy that one. 'No', said the owner, 'no chance …" At the 2002 Trakehner Stallion Licensing in Neumunster, Germany, Hohenstein was awarded the title of 2002 Trakehner Stallion of the Year. … Hohenstein constantly produces top sport horses that are sold for high prices at the Elite Hanoverian auctions in Verden. …
---
To
read the entire article, with pedigree, details of Hohenstein's sons and daughters, on the Horse Magazine website,
click here.
There are a few of stallion descendants of Hohenstein in North America. Click on the following links to read about each of the ones on WarmbloodStallionsNA.com:
Hampton
E.H. Herzensdieb