Here is the next installment of Warmblood Stallions of North America's Foundation Friday. Every other Friday we will be featuring a foundation sire - one who has been influential in the development of warmblood breeds. W
e pull from the incredible archive of
The Horse Magazine
, published by Chris Hector of Australia. Thank you, Chris, for permission to draw on your expertise!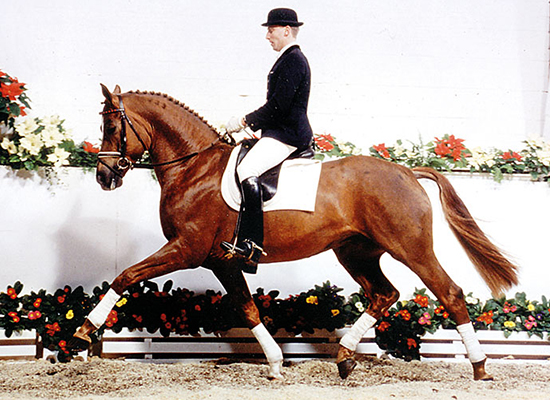 1989–2015
168 cm
Chestnut
Breeder: Friedrich Oppermann
When Werner Schockemöhle bought Alabaster, he was looking at the total pedigree in a very sophisticated way. "With Alabaster, it is a combination of several genes. The special factor with Alabaster is the clear influence from Abglanz, but he doesn't have some of the mistakes that are usually associated with the Abglanz pedigree. Alabaster is also influenced in his pedigree by the famous horse Ferdinand. Ferdinand was a great producer of showjumpers, but sometimes he also produced very good dressage horses." As of the 2015 Hanoverian Stallion Yearbook, Alabaster had produced 311 competitors with winnings of €574,794, but his only star, has been Isabel Werth's Grand Prix horse Apache, who won €208,937. Alabaster is the sire of seven licensed stallions of which Abanos has been the most successful. Alabaster's FN dressage ranking for 2014 is 124 with a negative 87 ranking for jumping. He has a 2015 Hanoverian dressage breeding value of 120 and a jumping value of 90. On the 2015 breeding values, he has a dressage value of 121 (reliability 98) and a jumping value of 86 (95). His Hanoverian dressage breeding value is 123 and the jumping value, 90. On the new breeding values introduced by the German FN, Alabaster has a Jungpferdprüfungen (young horse) dressage breeding value of 119 and a Tuniersport (open competition) value of 121.
In the 2017 Hanoverian Stallion Book, Alabaster is recorded with 323 competition progeny with winnings of €599,316. Six dressage horses have earned more than €10,000: Alabama (€17,117), Allerbeste (€16,575), Aly Mc Beal (€31,152), Amüsant (€28,704), Apache (€208,937) and Athletic Dreamboy (€25,781). In the 2019 Hanoverian Stallion book, Alabaster is credited with 328 competitors with winnings of €615,508. Six horses have won more than €10,000 in dressage competition – the most successful of which is still Apache with 208,937. He has a 2019 FN value as a sire of young competition horses of 117, and 120 as a sire of open competitors. He has a Hanoverian breeding value of 121 for type (with a spectacular 140 for the head) and 100 for correctness of limbs. His dressage value is 117 with a jumping value of 90.
---
To
read the entire article, with pedigree, details of Alabaster's sons and daughters, on the Horse Magazine website,
click here.
There are several stallion descendants of Alabaster in North America. Click on the following links to read about each of the ones on WarmbloodStallionsNA.com: