Here is the next installment of Warmblood Stallions of North America's Foundation Friday. Every other Friday we will be featuring a foundation sire - one who has been influential in the development of warmblood breeds. W
e pull from the incredible archive of
The Horse Magazine
, published by Chris Hector of Australia. Thank you, Chris, for permission to draw on your expertise!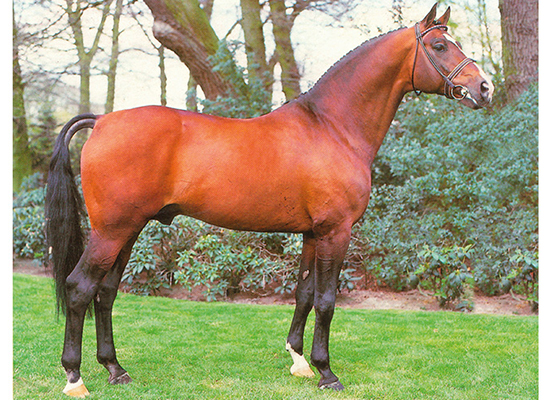 1974–1993
171 cm
Bay
Breeder: Joachim Kemmer
Akzent II was bred by Joachim Kemmer, father of German dressage team rider Heike, and stood at the family stud, Amselhof, and then on lease at the Celle State stud in Altenbruch before coming to the Oldenburg stallion station of Ludwig Kathmann in 1985. Akzent II was prized for carrying on the "type" of the Trakehner Absatz: a noble head and appealing face, ideal neck and saddle position and a good shoulder, combined with soft-to-the-ground way of going. His dam was by the Thoroughbred Waidmannsdank, who was one of the most influential Thoroughbreds of the post-war period in Hanover. He was for many years the leading Thoroughbred sire of licensed stallions and head stud book mares, and second only to Der Löwe as a Thoroughbred sire of competition horses. Not surprisingly, Akzent II scored very highly for type and ridability. In the Hanoverian Stallion Yearbook of 2002 (the last in which he appears) he is scored 144 for type, putting him into the top-ten category based on studbook inspections, and 134 for ridability on the basis of the mare performance tests. His dressage score on the mare tests was only 112, still better than his jumping ranking of 101. His FN ranking was 116 for dressage and 100 for jumping. By 2002 he had produced 747 competition horses with winnings of DM1,183,852. His most successful competitor was Amazonas, the winner of the German Dressage Derby with Karin Schlüter in 1987, with winnings of DM98,623, not far in front of Isabell Werth's Agnelli FRH, who won the Otto Lorke prize for Grand Prix horses under 10 years in 2000, and who by 2002 had won DM95,185. Akzent II was the sire of eleven licensed sons.
---
To read the entire article, with pedigree, details of Akzent II's sons and daughters, on the Horse Magazine website,
click here.
There are several stallion descendants of Akzent II in North America. Click on the following links to read about each of the ones on WarmbloodStallionsNA.com: