Here is the next installment of Warmblood Stallions of North America's Foundation Friday. Every other Friday we will be featuring a foundation sire - one who has been influential in the development of warmblood breeds. W
e pull from the incredible archive of
The Horse Magazine
, published by Chris Hector of Australia. Thank you, Chris, for permission to draw on your expertise!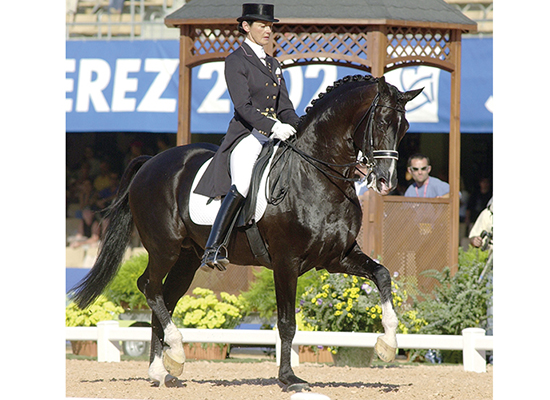 1987–2005
169 cm
Black
Breeder:
H. J. Gerrits
Ferro started out in life to be a showjumper but ended up one of the more famous dressage stallions of modern times.
Trainer Johann Hinnemann once said, "I always believed that Ferro was, and is, a very good horse because he has a very good character, and the power in his hind legs is very good. He is a strong horse. We saw he had a lot of talent for collection, then as Johann says, we worked on the basics, many many transitions until he went better, started to use his back better. The results at the shows in the small tour were very good."
Ferro went on to a sixth place at the 1998 WEG in Rome, and be part of the bronze medal winning Dutch team at the Sydney Olympic Games. Ferro's career highlight was in 2000, when they placed second in the World Cup Finals in 's Hertogenbosch, scoring over 80% for their Kür.
As a breeding stallion, Ferro has been very successful, producing a number of successful young dressage horse competitors, and the international dressage competitor, Jarwo. He has more than ten licensed sons, including Kennedy, Metall, Negro, Osmium, Paddox, Pyriet, Rhodium and Hilltop Rousseau.
On the 2011 WBFSH dressage stallion standings, Ferro was in 4
th
, on the 2013 rankings, he dropped out of the top ten, but his son, Negro had moved into 10
th
place.
At the 2008 Olympic Games, Ferro was represented by his son Mythilus, in the American Dressage team and Prestige in the Spanish team.
On the 2015/16 KWPN breeding values for stallions with a reliability of over 90%, Ferro is in 11th with a value of 148 (97%) He has produced 2059 progeny over 4, with 684 competitors (= 33.22%).
On the 2015 WBFSH stallion rankings, Ferro is in 7th place with 10 points earners with his standout star, Glock's Undercover with 2686, way in front of the 2nd highest, Goerklintgaards Fanero on 1455.
---

To read the entire article, with pedigree, details of Ferro's sons and daughters, on the Horse Magazine website,
click here.
There are several stallion descendants of Ferro in North America. Click on the following links to read about each of the ones on WarmbloodStallionsNA.com: