Here is the next installment of Warmblood Stallions of North America's Foundation Friday. Every other Friday we will be featuring a foundation sire - one who has been influential in the development of warmblood breeds. W
e pull from the incredible archive of
The Horse Magazine
, published by Chris Hector of Australia. Thank you, Chris, for permission to draw on your expertise!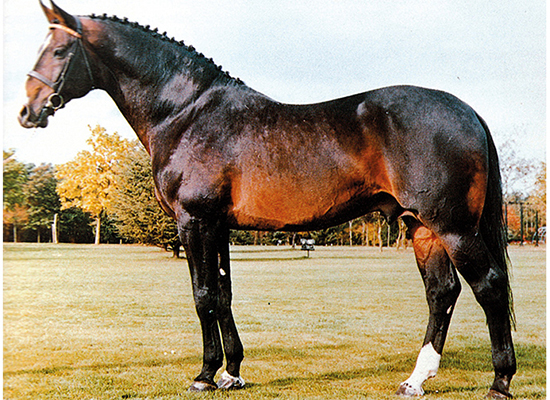 1965
175 cm
Bay
Breeder:
Clemens Frhr v. Nagel
Conceived in Holstein, born in Westfalia, licensed at Neumünster, and himself an international performer under Fritz Ligges, Ramiro influenced nearly all European Performance Studbooks.
When Ramiro was presented for selection, he was described as the ideal type of the modern Holsteiner – strongly imprinted by his dam, tall and elegant, showing the topline of his grandfather, Cottage Son xx, with a powerful frame, a glorious face and large, clear eyes. His excellently formed neck, beautifully set, could still be seen – even when he was an old horse – and is stamped on his progeny. Ramiro displayed a very good walk, a normal trot, and a great canter.
The Holsteiner Horse,
had this to say about Ramiro:
"Even as a yearling, Ramiro radiated high quality and sovereignty. As a two-and-a-half-year-old, he was runner up at the Holsteiner licensing in Elmshorn. He was very big, already standing 1.75 high as a three-year-old, with a clever head on a long, beautifully arched neck. Gentle to handle, just like his grandsire, Ramzes, he was very talented at jumping, which he not only proved by finishing the stallion performance test in Westercelle as the best of his year but also later at international level with Fritz Legges. However, at the time he was already a stud stallion and occasionally tested his rider with a trial of strength."
Ramiro's influence on the Dutch Warmblood breeding was, and still is, of utmost importance. The Dutch bestowed the title "Horse of the Year" on Ramiro in 1992.
In the survey of the world's top 75 jumping sires that appears in the French publication
Monneron 2007-2008
, Ramiro (who, thanks to frozen semen, was still producing foals 12 years after his demise) is ranked 23rd with 11 CSI winners, while his son, Robin I Z, is 43rd with 7 representatives.
---
To read the entire article, with pedigree, details of Ramiro's sons and daughters, on the Horse Magazine website,
click here.
There are several stallion descendants of Ramiro in North America. Click on the following links to read about each of the ones on WarmbloodStallionsNA.com: