Here is the next installment of Warmblood Stallions of North America's Foundation Friday. Every other Friday we will be featuring a foundation sire - one who has been influential in the development of warmblood breeds. W
e pull from the incredible archive of
The Horse Magazine
, published by Chris Hector of Australia. Thank you, Chris, for permission to draw on your expertise!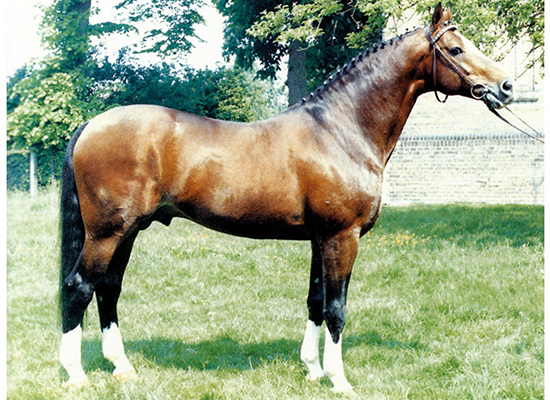 1974–1991
167 cm
Bay
Breeder:
Christa Geldbach
Pilot was born at the clinic of former FEI chief vet Dr Cronau, as his breeder, Christa Geldbach, wanted her foal to have the best right from the start. At his first foal show, little Pilot caused a sensation and was recommended for stallion status.

His breeder asked Kunibert Munch, the owner of Pilatus, to prepare him for the stallion licensing, and it was here that his difficult temperament became apparent – and even today his progeny have strong difficult characters.
On his dam's side, Pilot is out of Gratia by Graphit by the great Grande. On her dam's line we have Kornelia the daughter of one of the last of the original Trakehners, Keith.
Pilot was purchased by the Westfalien State Stud in 1977 and sent to the breeding station at Sande where the local breeders were not too keen to use him since his reputation for erratic behavior had preceded him. There was no denying that he was an elegant horse with great conformation, and he behaved well enough at the performance test at Warendorf to finish in 5th – and his foals were wonderful. The stallion stood at Sande until 1988, and by then the breeders were queuing for his services!
Sadly Pilot was put down in early 1991 at the age of 17 with an untreatable hip injury. His influence lived on due to stocks of high class frozen semen, and as late as 1998 there were two Pilot progeny in the Westfalien foal auction.
Pilot was the first showjumping stallion with progeny to earn one million Deutschmarks – in fact by the end of 1999, Pilot progeny had earned a staggering DM6,250,000.
One son, Prestige Pilot, is the sire of Placido, who carried Ulf Möller to victory in the five-year-old dressage horse championship at the 2000 Bundeschampionate.
Pilot was also influential in The Netherlands, through his son, the KWPN stallion Epilot (x Dixi by Direx), who died in November 2007 at the age of 21. Epilot won the six-year-old class at the Bundeschampionate in 1992, ridden by Franke Sloothaak. He went on to compete internationally with Franke and later, Peter Gerink.
---
To read the entire article, with pedigree, details of Pilot's stallion sons and daughters, on the Horse Magazine website, click here.
There are several stallion descendants of Pilot in North America. Click on the following links to read about each of the ones on WarmbloodStallionsNA.com:
Pablito