Here is the next installment of Warmblood Stallions of North America's Foundation Friday. Every other Friday we will be featuring a foundation sire - one who has been influential in the development of warmblood breeds. W
e pull from the incredible archive of
The Horse Magazine
, published by Chris Hector of Australia. Thank you, Chris, for permission to draw on your expertise!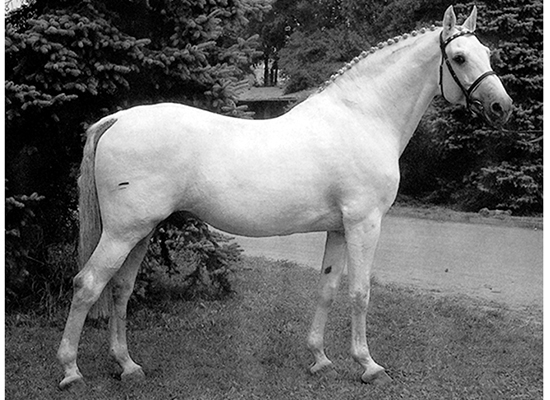 1975–1999
169 cm
Grey
Breeder: Harm Thörmalen
In
The Holsteiner Horse,
Capitol is described thus:
"Distinctive sire with plenty of stallion expression, yet lacking the final touch of charm. Large head, mighty neck with strong jowls. Top-line not ideal. Good legs with pronounced joints, but slight flaws in the transition of the joint. Relaxed, elastic gaits; enormous jumping ability."
His first crop produced Corso, who, ridden by the Swiss Willi Melliger, won many Grand Prix and speed classes, and competed at the European championships in St. Gallen in 1987, the World Cup final in Gothenburg in 1988, the Nations Cup at Aachen and the European Championships in Rotterdam. Suddenly his offspring were in huge demand and setting record prices. Three of his important sons were then licensed for Holstein: Carthago (1987), Cassini I (1988) and Cento (1989). Indoctro was licensed in Holland in 1990 and spread the blood of Capitol to that country.
Following the success of his progeny, Capitol moved to 2
nd
on the WBFSH standings in 1999, and to first place in 2000 and 2001. At the Olympic Games in Sydney in 2000, he was represented by three horses: Carthago, Campione M and Cento. At the Athens Games, he was represented by four: Cardento, Casita, Cento and Goliath. As of 2007, his offspring had won over €5.3 million. There are 34 of his stallion sons world-wide and 25 in Holstein alone, and they have proven wonderful sires in their own right.
Capitol I's full-brother, Capitol II was initially rejected by the licensing commission but was approved based on his performance as a showjumper, but he failed to follow his brother's footsteps and left nothing of interest.
According to Harm Thormälen, whose family bred Capitol:
"The Capitol horses have scope – scope and easy to handle. Amateurs can ride the Capitol horses. Sometimes they are not 'blood' enough, they need blood. In his last years Capitol was only allowed to breed to mares with Thoroughbred blood. The mare sire had to be Thoroughbred, or otherwise Cor de la Bryère – so Capitol got very good mares. It was top management by the Holsteiner Verband, with very good results in the sport. The children of Capitol have won the most money in the sport of any stallion in the world."
In the 2007-2008 Monneron leaderboard of the top 75 jumping stallions in the world, based on the FEI results of the top 2515 jumpers, Bernard le Courtois finds four major stallion lines: Almé, Cor de la Bryère, Landgraf and Capitol I. Capitol ranks 37th with 8 winners. His best performer is the mare Gitania – but five of his stallion sons feature in the top 75.
On the 2013 German FN list of the top 1% of jumping sires, Capitol is represented by three sons: Carthago (12
th
), Cardento (18
th
) and Cassini I (28
th
).
Examining the breeding at the WEG in Caen, what did come as a bit of a shock was the influence of the somewhat unfashionable Capitol. The most represented Capitol line stallion was his son Cardento with six, but then there was Indoctro with four (three of them ridden by less than professional riders), Cassini I provided three, then there are two by Cento, one each for Canadian River and Centauer, two by Capitol's grandson, Cumano, one by another grand-son, Colman and one by Capitol himself.
---
There are several stallion descendants of Capitol I in North America. Click on the following links to read about each of the ones on WarmbloodStallionsNA.com: