Here is the next installment of Warmblood Stallions of North America's Foundation Friday. Every other Friday we will be featuring a foundation sire - one who has been influential in the
development of warmblood breeds. W
e pull from the incredible archive of
The Horse Magazine
, published by Chris Hector of Australia. Thank you, Chris, for permission to draw on your expertise!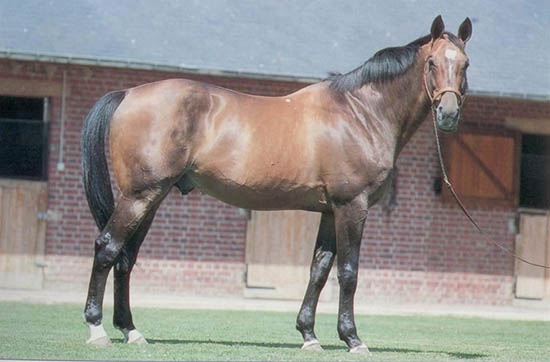 1975 – 1994
174 cm
Bay
Breeder: G. Sabras
Like so many of the great stallions, Jalisco was not an immediate star. As a five year old, he finished a respecta
ble 8th at the French championships, the following year, he was 8th in the Grand Final, and ranked fourth in prize money earned of his generation.
In an interview with Xavier Libbrecht in Breeding News in February 1997, Fernand LeRedde has this to say about the stallion:
"One should consider that Jalisco has four half brothers, sons of Almé, from a generation which distinguished itself at an equivalent level of competition. In no particular order, and with some different results, there is Joyau d'Or A (Fabulation by Vin d'Honneur SF), I Love You (Elyria by Nykio SF), Lord Gordon (Taviane by Brule Tout SF) and Galoubet (Viti by Nystag TF). Assuredly, Jalisco has not been the most dazzling performer of the lot. Joyau d'Or and Lord Gordon had short or interrupted careers, I Love You, winner of a Volvo World Cup Final (Vienna 1983) and Galoubet have been more spectacular than Jalisco in the ring. But, there again, history proved that Jalisco used his weaknesses to his advantage. Out of the five, he was the biggest, moved with the greatest elasticity, with the longest stride. He was also, intrinsically, the most powerful. His pedigree and, notably, his maternal line, was perfect, since his mother, Tanagra, pride of the Sabras breeding, never produced anything other than good horses (Geisha N, Danoso etc.). On the other hand, he was sometimes a little phlegmatic and lacked respect for obstacles, and his competitive honours were never as high as those of his half brothers. However, fifteen years after the end of his sporting career, he was considered to be the best stallion of the five best French Almé sons of his generation."
In 1982, Jalisco sired two stallion stars – Quidam de Revel, 4th at Barcelona who went on to be for a while the world's most expensive – and successful – stallion, and the 1990 World Champion, Quito de Baussy.
By 1995, Jalisco was number one on the WBFSH rankings with eight horses competing at the highest international level. At the 1996 Olympic Games, he was represented by Rochet M, Surcouf de Revel, Vert et Rouge and Revoulino.
According to Arnaud Evain: "What Jalisco brought was the scope – scope and long strides. Behind his very strong body there was a lot of blood, but you must have a lot of respect and passion with the Jaliscos because they are generally not very spectacular when they are four. When you combine the blood of Jalisco with the blood Nankin or his son, Uriel, that is often very successful. Quidam de Revel, is Jalisco / Nankin, Dollar du Murier is Jalisco / Uriel. You find that quite often."
In the survey by Bernard le Courtois of the top 75 stallions of 2006, Jalisco is ranked =30thwith 10 representatives.
Jalisco was the sire of 63 approved stallion sons, but the most important has been Quidam de Revel and his sons, Guidam and Nabab de Reve.
There are several stallion descendants of Jalisco B in North America. Click on the following links to read about each of the ones on WarmbloodStallionsNA.com: