Here is the next installment of Warmblood Stallions of North America's Foundation Friday. Every other Friday we will be featuring a foundation sire - one who has been influential in the
development of warmblood breeds. W
e pull from the incredible archive of
The Horse Magazine
, published by Chris Hector of Australia. Thank you, Chris, for permission to draw on your expertise!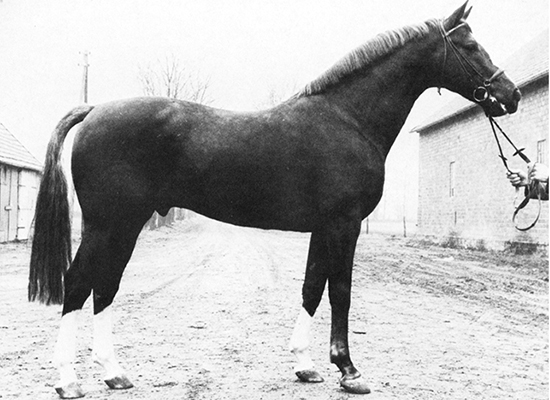 1965 -1986
16.1 ½ hh
Chestnut
Breeder: Alfons Lefevre Height
Furioso was described as "well balanced but with slightly knock-kneed forelegs and tight hocks." He was also rich in Thoroughbred jumping blood, being by Precipitation out of a mare by Son-In-Law by Dark Ronald.
The authoritative
De L'etalon Sport Français
of 1992 remarked: "He had good bone, and walked liked a lord, with a magnificent pace, very energetic and showing a great deal of amplitude, his tail swinging at each step. His trot and gallop were good but not exceptional. Though full of life he was docile and had a good temperament."
Furioso xx, his sire, was the leading sire of jumping horses in France from 1954-1961. His son, Lutteur B, who went on to win the 1964 Olympic individual gold for showjumping, amazed the German breeders when he appeared at the Hamburg Derby. Maas Hell, in
Die Grossen Hengste Holsteins
records the reaction: "The Germans were again amazed at how nonchalantly Lutteur B performed on the jumping course, how he played with the distances, and how, with a long neck, he left the course as though nothing had happened."
Furioso II was approved for the Oldenburg studbook in 1967, and then went on to easily win his 100-day test. Later he was approved for Hanover, Rhineland, Hessen and Westfalia. For many years, Furioso II was ranked in the top three sires of leading money winners in Germany. Furioso II had winners in all disciplines. His showjumping stars included: FBI (with Thomas Frühmann), Heissman (ridden by Eric Van Der Vleuten, then Michael Matz) and For Pleasure.
Furioso II died in 1986 having sired progeny with earnings of nearly DM9,000,000. He sired 54 licensed stallions, including the Oldenburg licensing champions: Furidant (1971), Furore (1978) and Fatianus (1979). Mareile Oellrich-Overesch, in her excellent profile of Florestan in the 2008/9 edition of
Selected Sires of Germany,
makes the point: "It was a tradition in Oldenburg to prevent a stallion's offspring from competing with their sire, so they were often sold to other breeding regions. That is why most of Furioso II's sons were at stud in other regions of Germany or abroad. It also explains why the Furioso II bloodline didn't originally survive in Oldenburg. Now, however, it has made a comeback with Florestan's sons Fürst Heinrich and Flavio (Sprehe Stud), Florencio (Ludwig Kathmann Stud), Faustinus (Vorwerk Stud) and Florianus (Grönwohldhof/Pape Stud). His grandsons Farewell I and Fidertanz (Böckmann/Wahler Stud), Farewell III (Klatte Stud) and Fürstentraum (Sprehe Stud) are also stationed in Oldenburg.
As late as 2007, Furioso II continued to shape the sport of showjumping. In the
2007/2008 Monneron
ranking of the world's top 75 stallions, Furioso II's son Voltaire is ranked 11th in the world with 19 CSI winners, while For Pleasure, despite largely concentrating on a competition rather than a breeding career until recently, ranked 13th with 11 representatives.
There are quite a few stallion descendants of Furioso II in North America. Click on the following links to read about each of the ones on WarmbloodStallionsNA.com:
Amazing
First Dance
Mannhattan
Rubinero
Twisther
Vallado
Vegas
Viva Voltaire