This is the third installment of Warmblood Stallions of North America's Foundation Friday. Each Friday we will be
featuring a foundation sire - one who has been influential in the development of warmblood breeds. As with most of those articles, we pull from the incredible
archive of
The Horse Magazine
, published by Chris Hector of Australia
. Thank you, Chris, for permission to draw on your expertise!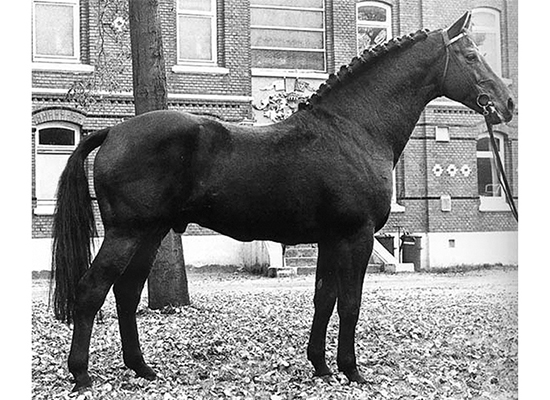 Landgraf I
1966 – 1996
16.3 hh
Brown
Breeder: Graf von Kielmansegg
Landgraf I began his breeding career with little success, but over time became a highly-sought after sire and an excellent example of the modern Holsteiner Sport Horse. His international acclaim and exceptional bloodlines are still known today. There is a bronze statue in his likeness in Elmshorn, outside the century-old Riding and Driving School.
Born in 1966, Landgraf I belongs to the first vintage of his sire, Ladykiller xx. His dam, Warthburg, came from the stem No. 275 and carries the performance genes of Ethelbert, Achill and Cicero, who are responsible for laying the foundations of the Holsteiner Sporthorse.
In his early days, Landgraf was not initially widely accepted as a stallion in Germany because sons of Thoroughbreds were still regarded with suspicion. It was after the 1975 Equitana in Germany, where Landgraf easily cleared a 6'6" several times a day that international riders started to buy his offspring.
The Holsteiner Horse (published 2009 by the German FN) notes: "In Baden-Württemburg, Landgraf's offspring only met with modest approval. The local breeding board were of the opinion that paired with their native mares, the offspring produced by the stallion were too big. The Holsteiner Association management decided to buy Landgraf back and secure him for the Holstein breed for the rest of his life.
"Landgraf dominated the breeding scene in Schleswig-Holstein for over ten years. The success of his offspring both in terms of breeding and sport performance led to the demand for the stallion becoming almost insatiable. As a result, the management decided to regulate the use of Landgraf by contract in order to secure for themselves the first refusal to buy the colts. Furthermore, Landgraf's use was restricted to mares, who, according to their pedigree, could possibly produce graded stallions and who were over a specific type."
In the 2007-2008 edition of Monneron, on his list of the top 75 stallions in the world, Bernard le Courtois identifies four dominant male lines: Almé, Cor de la Bryère, Capitol and Landgraf. Nearly sixty colts by Landgraf I have been licensed for the Holsteiner studbook, 340 broodmares by Landgraf I are registered in the Holsteiner stud book, 260 of these are in the Head Stud Book, 70 have been awarded the State Premium, and a considerable number have been champion mares at shows.
In his Stallion Book of the Holsteiner Warmblood Breed, Dr Dietrich Rossow delivers his verdict on Landgraf: "Imposing appearance with enormous crest and neck carriage. Smooth total topline and much presence. Beautiful face with marvellous eye. Long, rather broad neck, long sloping shoulder. Withers could be more clearly defined. Well-shaped, muscular croup. Strong bone. Good in front. Slightly sickle hocked in youth (became very straight with age). Tied in below the hock and faults in the hind fetlocks. Good mover. Marvellous temperament. Phenomenal jumper; tight in front, lots of bascule, careful and talented. Great
performance capabilities.
"Offspring are of various sizes and usually late developers. In youth, the tall ones appear leggy and narrow. Nearly always passes on his face, type and also his hindleg faults. Almost all offspring are endowed with their sire's jumping ability. In the beginning they jump rather awkwardly with less than ideal form which improves with increased maturity. Seldom passes on his overly heavy neck. Huge number of international class jumpers.
Up to now (the book was published in 1988) Landgraf is far and away the most important jumper sire in the world!"
In all, Landgraf progeny have won over €4.5 million.
To read the entire article, with pedigree and more offspring details, on the Horse Magazine website, click here.
There are several stallion descendants of Landgraf I in North America. Click on the following links to read about each of
the ones on WarmbloodStallionsNA.com:
Carthago Sun
Chin Quidam
Dakota VDL
Fairbanks
HH Radco
Ikoon
La Marque
Landkoenig
Last Man Standing
Limoncello II
Riverman
Silver Creek's Validation