This is the fifth installment of Warmblood Stallions of North America's Foundation Friday.
Each Friday we will be featuring a foundation sire - one who has been influential in the development of warmblood breeds. We pull from the incredible archive of
The Horse Magazine
, published by Chris Hector of Australia. Thank you, Chris, for permission to draw on your expertise!
Contender died in January 2014, just short of his 30th birthday, but not before he proved himself to be the most influential son of Calypso II and one of the greatest of the stallions to descend from Cor de la Bryère.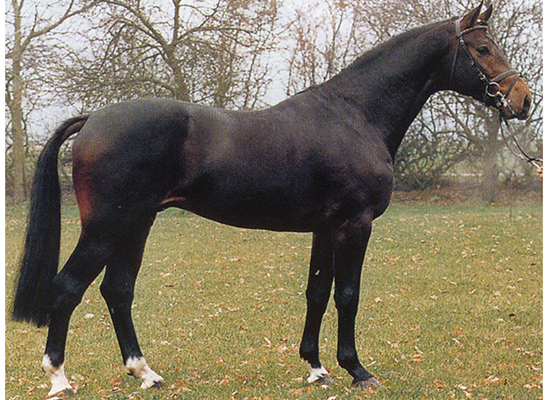 Foundation Sire: Contender
Breeder: Niko Detlef, Westfehmarn
Here is his description in The Holsteiner Horse by Dr. Thomas Nissen, Gabriele Pochhammer, Donata von Preußen and Joachim Tietz:
"An important stud stallion with fantastic lines. Great expression and charm. All in all, a stud stallion of exceptional class: first class conformation with very well-balanced paces and good rhythm, whereby he could have had a more ground covering walk and a more pronounced flank. Outstanding jumping ability, as could be expected, considering his genes. Very good style and technique."
Contender won the 1987 Adelheidsdorf stallion performance test with a jumping index of 146.6. He went on to be the 1-b main premium vice-champion in Oldenburg based on his excellent first crop of foals.
Contender was, in his time, one of the most sought-after stallions in Germany. He has produced 127 approved sons and 59 state premium mares, including Rionda who won the Elite Mare Show at Rastede in 1993. As of 2006, in Holstein, Oldenburg, Hannover and Rhineland, Contender had produced 782 registered mares, 498 successful offspring in the sport.
During his first three years at stud in Oldenburg he produced an impressive number of foals that went on to international careers. Contender then returned to Holstein and was stationed at Hans-Jürgen Köhncke's stud at Badenhof. It was Mr. Köhncke who bred the three-time Hamburg Derby winner, Collin. Still, it took a while for the breeders to appreciate Contender. His first foals in Holstein weren't as spectacular as the ones in Oldenburg, and it gradually became apparent that Contender worked best with mares with a high proportion of Thoroughbred blood. The success of his offspring made him so sought-after that in 2000 the Holsteiner Board decided to limit the use of Contender to registered Holsteiner mares.
Contender dominated German breeding values for many years and produced a number of top stallions, including Contendro (premium stallion in the approval of 1999, and winner of the performance test at Adelheidsdorf the following year).
Contender's influence spreads throughout Germany with his two sons Cordobes I and II, acquired by the Westfalien stud at Warendorf. Cordobes I was the winner of his performance test in 1998 – scoring almost exactly the same jumping score as his celebrated sire: 146.29!
His son Canabis Z is another successful sire who now stands at the Nijhof stud in Holland after commencing his sport and breeding career at Zangersheide. He competed at an international level with Manuel Fernandez Saro from 2003 to 2009 with moderate success. Their best win was a Grand Prix at Vejer de la Frontera but it was a pretty ordinary line-up of jumpers. His breeding career has been limited but he has produced an impressive group of progeny: Cabreado Z and Daniel Deusser (their best a win in a 1.55 class at Lyon*****), Zoltan and Gerfried Puck (3rd in a 1.45 class at Reifnitz), Caesar and Andre Thieme (their best in 2012 was a 3 rd in a 1.45 class at Neustadt- Dosse, although they did win a Grand Prix at Thermal** back in 2010). The most promising of Canabis' offspring is Cadjanine Z, ridden by Gregory Wathelet at the London Games, and who started the 2014 season in great style, carrying Rodrigo Pessoa to a 1.45 and a Grand Prix win at Wellington.
On the 2014 WBFSH standings, Contender is in 20th place, largely due to the efforts of Ludger Beerbaum and Chiara. As one of the "big three" stallions in Holstein, Contender was limited to a book of 350 mares a year – and each year over 700 applications were received!
There are several stallion descendants of Contender in North America. Click on the following links to read about each of these on WarmbloodStallionsNA.com: