Welcome to Foundation Fridays, a new feature for
Warmblood Stallions of North America.
Each Friday we will be featuring a foundation sire - one who has been influential in the development of warmblood breeds. We pull from the incredible archive of
The Horse Magazine
, published by Chris Hector of Australia. Thank you, Chris, for permission to draw on your expertise!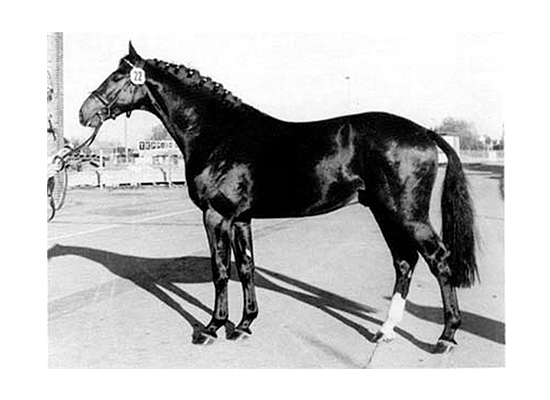 Caletto II
1976 – 1984
169cm Brown
Breeder: Klaus Martin Both, Obendeich
Stood at: Woerden 1981-1983, Wellinghausen 1983
Despite only standing for four seasons, Caletto II may well be the most important son of the jumping
super-sire, Cor de la Bryère. In the WBFSH top fifty rankings for 1991-2000, Caletto II ranked 16th thanks to the jumping efforts of 14 progeny.
Considered the perfect Holsteiner type, Caletto II was a sensation right from the start. He was acclaimed Champion of his stallion licensing in 1980. He also showed wonderful jumping technique, and later proved this in the showjumping ring with Herbert Blöcker, where the stallion won many tests for riding horses.
At a regional show in September 1984, while waiting to go into the arena after being proclaimed best in the show, Caletto II reared up, fell over and broke his neck!
He was described thus in the Stallion Book of the Holsteiner Warmblood Breed by Dr. Dietrich Rossow: "Significant stallion of Thoroughbred, performance type. Harmonious and deep bodied. Smooth topline, slightly herring gutted. Muscling not well let down through the haunches. Clean, correct legs and feet. Good walk and trot, absolutely marvelous canter. Very good jumper. Extraordinary form over fences, brilliant with knees. Good temperament."
As a sire, Rossow was equally enthusiastic: "Improvement sire! Offspring mainly of his type with Cor de la Bryère hindquarter. All are performance horses. Five approved sons, 91 approved daughters."
According to The Holsteiner Horse whose authors include the current Holstein breeding director,
Thomas Nissen: "He was lighter, more elegant than his brother and passed that on to his offspring –
even when paired with mares of heavy build. That is what differentiates him from Caletto I, who
produced his best progeny with Thoroughbred mares. Many generations later, the pedigree of Caletto II still stands for quality and aristocracy."
The great a loss of Caletto II is shown by the fact that he ranked 16th in the standings for 1990-2000. His daughter Classic Touch was one of the greats, winning individual Gold at the age of eight at the
Barcelona Games with Ludger Beerbaum. The Caletto II daughter Operette was ridden successfully by Jan Tops at Nations Cups at Barcelona, Rotterdam, Calgary and Aachen. Other top jumpers include Campari (Carsten Otto-Nagel), Cassiano Joter (Karina Johannpeter) and Cascadeur who competed in the 1994 WEG with Bo Kristoffersen.
Caletto II's son Caretino jumped internationally with Bo Kristoffersen and later with Ludger Beerbaum, and is himself the sire of Caretano Z, who was leading the 2000 TNT Sires of the World Standings when he tragically died following colic complications.
Caletto II sired 112 registered Holsteiner mares, many of who feature on the pedigrees of successful
horses, such as Cento (Capitol), Lasandos (Landlord), C-Indoctro (Captiol), Cassini I and II (Capitol), Clarimo (Clearway), Casino (Capitol), Lord Calidos (Lord), and Lerano (Lord). Eleven sons of Caletto II were licensed in Holstein, the most important being Caretino I.
To read this article as it was published on The Horse Magazine website - along with full pedigree of
Caletto II, click here. The publisher and creator of this incredible resource, Christopher Hector, is the
author of The Making of the Warmblood Horse.
There are several stallion descendants of Caletto II in North America. Click on the following links to read about each of the ones on WarmbloodStallionsNA.com:
Imothep
Victor E
HH Himself
Darthus
Dakota VDL
Cabardino